Hard Rubbish Collection in Brisbane
At Anything Rubbish, we are here to make cleaning up your house easy. And while hard rubbish only comes around once a year, we can come around whenever you want us to. We're your local Brisbane rubbish removal experts and we're here to take away your rubbish and leave you with space and freedom.
What do you need gone? The old washing machine that's been in the garage forever? The bike frames you've been meaning to fix up? All that old timber that's well past being usable? How about the wall cladding you have been meaning to throw out but just haven't got around to?
We can take it all. We're here for you when you need hard rubbish removal from your property.
We can take:
Garbage and household rubbish

Whitegoods and electrical equipment

Old and broken furniture

Mattresses

Gardening equipment

Garden rubbish and green waste
Want to know if we can take your rubbish? Call us to find out whether we can take your rubbish.
Whenever You Need Us – We are Here for You
Got an end of lease clean coming up? We can help you get rid of anything extra leftover when you have finished moving everything out.
Are you looking to sell your house? We'll help make sure your property is in top condition, ready for sale.
Are you finding it hard to find space for everything? We can help you make room!
We will come to you no matter where you are in Brisbane or across south-east Queensland. Just get in touch with us and our professional rubbish removal team will come to you and take your rubbish away.
Pain-free rubbish removal quickly, efficiently, and easily.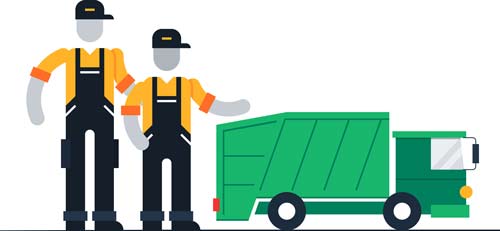 No Need to Wait for Council's Hard Rubbish Collection
Curbside collection is usually the only chance you have to get rid of that hard rubbish lying around your house. But what if you need that rubbish removed right now? Most hard rubbish is very difficult to transport, and you need a ute or trailer to do it. No need to worry when we'll come around and pick it up and dispose of it for you.
Far Easier Than Hiring a Skip Bin
While a skip bin is usually a popular choice for removing hard rubbish, you still need to lug all that heavy stuff into the skip yourself. Plus you may not have enough room on your property to put the skip bin anyway. At Anything Rubbish, we come into your property and lug it all into the truck for you. No heavy lifting needed!
We Recycle White Goods Wherever Possible
Got white goods that you need to get rid of? Don't just take them to the dump to become part of landfill. Allow us to pick up all your unwanted white goods, and if they can be recycled, we will certainly make sure that happens.
Why Choose Us for Hard Rubbish Pickup in Brisbane?
We will give you a solid quote before we get started so you know what to expect
We come to you at a time that suits you
We dispose of your rubbish correctly and in line with regulations
We recycle wherever we can
Contact us for more information and a free quote for rubbish removal from Anything Rubbish
We have a range of vehicles perfectly suited to rubbish removal and can ensure that whatever you have we can take it away. We cannot take hazardous material or asbestos, but anything else you have we'll take!
Contact us on 0466 245 628 or reach out online.